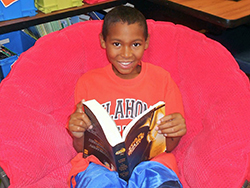 Congratulations, Ethan M. from West Des Moines, IA, for being awarded Read Naturally's April Star of the Month Award. Ethan is a fifth grader at Crossroads Park Elementary School. Ethan was nominated by his teacher Lynda Niffenegger for his tenacious drive to improve his reading and his great success with the Read Naturally Live program. Here is what Ethan's teacher had to say about him.
Ethan started fifth grade performing below grade level in fluency and comprehension. On our state screening assessment he read 125 wpm. After having some success with students the previous year with Read Naturally, I thought this may work for Ethan. I started using it as an intervention with Ethan in early September. He readily learned the procedures. He was motivated by the graphs and feedback provided by Read Naturally. He enjoyed picking the stories that he would work on for the week. He would come in each morning before school started and get his iPad and get started on his work. He made this decision himself; he would just show up and ask if he could do his Read Naturally. His dedication and commitment paid off. The clarity of the instructional plan allowed him to take ownership of his learning. On his winter state screening assessment, he was proficient. He read 163 wpm. In just five months he was able to move into the range of being proficient. His progress continues to be monitored weekly and he continues to show improvement. He no longer needs the intervention. On his weekly progress monitoring, he is currently reading 168 wpm. He has one peak at 189 wpm. I am thrilled with the carryover to our state screening assessment. In addition, Ethan is more independent as an overall literacy student. He reads books at grade level. He completes grade level comprehension assessments with proficiency. Read Naturally was a great match for Ethan and truly helped him to reach his reading goals.
The Read Naturally Star Student of the Month program is designed to celebrate students who work hard to improve their reading skills. Each month, we select one student to feature in our newsletter. The selected student wins a $50 Barnes & Noble gift card, and the school or teacher who nominated that student receives a $200 gift certificate for Read Naturally materials.
If you entered the drawing and your student did not win this month, he or she will remain in the selection pool for future months! Students submitted between May 1 and August 31 will be entered to win the Summer Star Student award and will be featured in our September newsletter.
To nominate your deserving student, visit the entry form.