Investing the time to train your students well in the Read Naturally Live program will yield incredible benefits later. When the steps of the program are easy and automatic for students,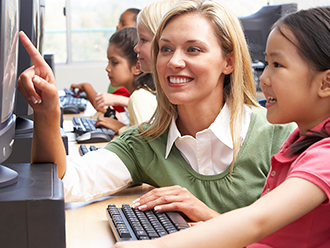 they can devote all their mental energy to the important task of reading. That's why we created A Student's Guide to Read Naturally Live—a free training resource we hope all Read Naturally Live teachers and aides will take advantage of. This resource makes Read Naturally Live training easier, more efficient, and more enjoyable than ever before.
A Student's Guide to Read Naturally Live is a four-part series in which students watch detailed training videos and then complete corresponding hands-on activities. After watching a student narrator demonstrate two to three steps per video, students log into their first Read Naturally Live story and complete the steps they just learned. The student narrator in the videos works at a pace that is easy for students of any age to follow, and each video can be accessed as many times as is necessary for students to develop a full understanding of each step.
A Student's Guide to Read Naturally Live is easy for teachers and aides alike to administer. For parents who want to learn how to supervise a student who is working in Read Naturally Live at home, this training is also ideal.
Before using A Student's Guide to Read Naturally Live, please refer to this document, which contains detailed instructions and checklists for using this resource. Please note that you must enroll, license, and place your students before using this video series.
Once your students are properly trained in Read Naturally Live, you'll see the magic begin to unfold. We're eager to help your students soar in their reading abilities this year. Please reach out if we can assist you in any way.