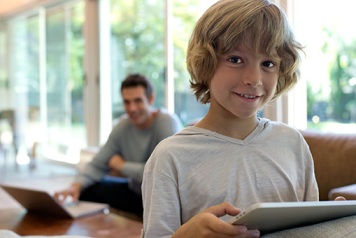 ​Read Naturally founder Candyce Ihnot continued her work with students in the Read Naturally reading lab at Faithful Shepherd School this past school year. When schools moved to distance learning, Candyce met with Read Naturally Lead Teacher Sarah Voelbel to develop a plan. Their priority was to keep students engaged and to ensure the students could continue building their reading skills. Candyce and Sarah's plan to combine Read Live and Zoom worked out better than expected. Below, Sarah shares her reflection on the experience:
The classroom experience in spring 2020 looked very different this year. Little did I know that in mid-March we would be taking our teaching to distance learning. At first, I was not sure how to bridge the gap between our Read Naturally work in the classroom and online work.
After some troubleshooting, Candyce and I discovered that the best way to conduct Read Naturally remotely was with individual meetings over Zoom. I set up virtual face-to-face meetings with the students who were willing, and I used the "share screen" function on Zoom. The "share screen" function allowed me to sit with a student through an entire story and control the speed in which we moved through the story. In the classroom, I would sit with each student for just a few minutes. However, teaching remotely allowed me to experience the entire story with the student and would typically take 30 to 40 minutes. The students had my undivided attention, and there was no wait time between steps. To my surprise, I was able to establish the teacher-student relationship that naturally occurs within the classroom.
Overall, conducting Read Naturally through Zoom turned out to be a positive learning experience and a good alternative when distance learning is required. If I need to teach remotely again, I believe teaching through Zoom will be a good way to facilitate small groups of students and will allow me to guide them through their Read Naturally stories.
~ Sarah Voelbel, Read Naturally Lead Teacher
Thank you, Sarah, for sharing what worked for you and your students during this challenging school year. For additional "Stories from the Lab" at Faithful Shepherd school, be sure to check out Candyce Ihnot's blog posts from a couple years ago. She has loads of wisdom and creative ideas to share with fellow educators.
If you have a story to share about what worked well for you this past school year, we'd love to hear it! Please send us an email at info@readnaturally.com, or leave a comment below.