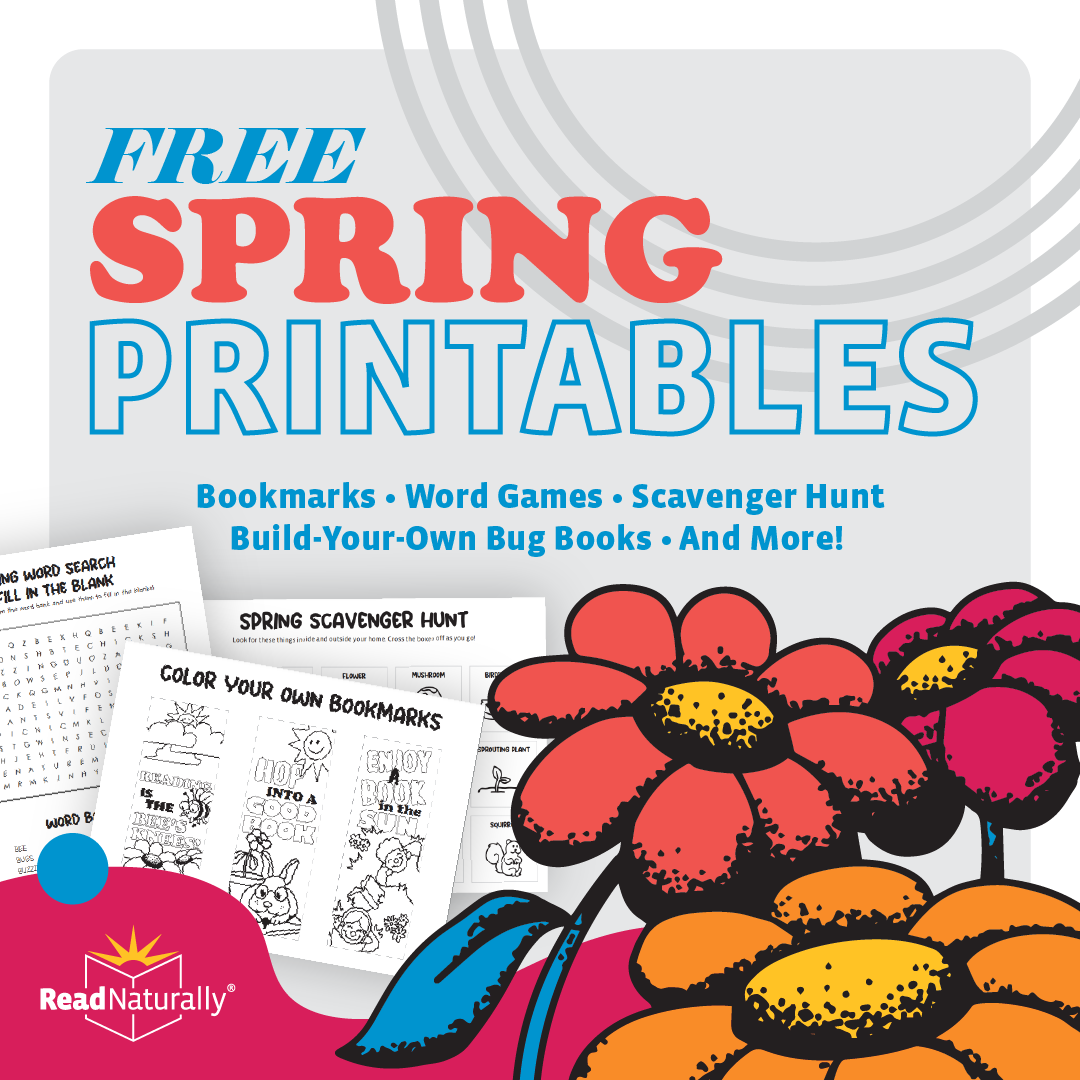 Regardless of where kids are on their reading journey, there are countless ways to boost their literacy this spring. Here are some easy ideas for kids to try at home or for teachers to incorporate into the classroom. The free printables linked here will also make a great packet to send home over spring break!
Kids will love to color and decorate these spring-themed bookmarks to make reading even more fun!

How many words can you make from the letters in "butterfly"? Have kids complete this Butterfly Word Activity to find out.

Did you know flies taste with their feet? This activity includes a bunch of fun facts about bugs, which kids can use to create their very own Bug Book.

Set up reading challenges in which kids set goals and record their minutes spent reading or the number of books they read this spring.

What are the similarities and differences between winter and spring? Have kids complete this Winter-Spring Venn Diagram to reflect on these seasons.

Encourage kids to borrow books from the library and have a big pile to choose from. See this Spring Book List for book ideas.

Print out this Spring Bucket List, and have kids cross off these fun, literacy-themed activities as they do them this season.

Can you find all the words in this spring-themed word search? Print it off and have the kids find out! Then, use the words to complete this fun fill-in-the-blank worksheet that's sure to boost vocabulary.

Incorporate reading time into other fun activities. For example, while making dinner or baking treats, kids can read the recipes and write out the grocery lists.

Lend or gift kids the first book in a series that's likely to hook them. Sometimes all it takes is the right series to turn a reluctant reader into a bookworm!

Encourage kids to find ways to read while playing favorite games or while spending time on electronic devices. While playing games, have them read the game instructions aloud. While watching shows, have them turn on and read the subtitles.

Have kids practice reading and writing while completing this fun Spring Scavenger Hunt. They'll get some fresh air too!

Can your students alphabetize these spring-themed words?

Check out One Minute Reader, which is a fully independent reading program that uses the research-based Read Naturally Strategy. It's free for 7 days and $8/month after that.

Download the Splat-o-Nym vocabulary iPad app, which keeps kids entertained while boosting their vocabulary. Kids can try a free version of this game and purchase to get the full experience. Note that this app is only available for iPads, not smartphones or other devices.
Add your own ideas to this list! Our hope is for all kids to experience the joy of reading this spring season and always.