Read Naturally Benchmark Assessor Live provides...
A tool to quickly screen students for reading problems.
Convenient fall, winter, and spring oral reading fluency assessments.
Field-tested passages for grades one through eight.
Data-based documentation of student performance for RTI implementation.
Teachers use Read Naturally Benchmark Assessor Live to...
Easily assess students with a reading assessment test in fall, winter, and spring.
Immediately view student results in tables and graphs.
Track changes in student performance.
Efficiently communicate student results with colleagues and parents.
Utilize assessment data to make instructional decisions.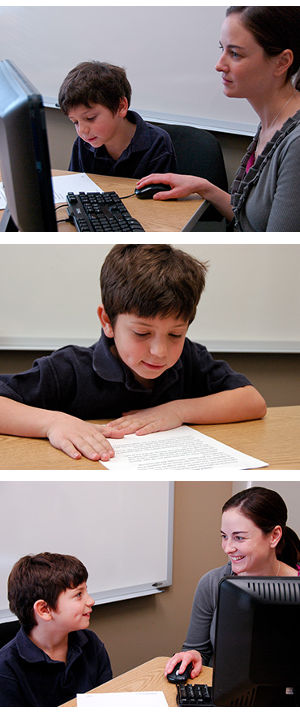 Benchmark Assessor Live is an efficient, valid, and reliable way for teachers to measure a student's reading fluency skills.
Teachers assess students with Benchmark Assessor Live in the fall to screen them for reading problems and identify those who need further diagnosis and who may benefit from a reading intervention like Read Naturally Live. Teachers assess students again in the winter and spring to track their overall reading achievement.
Each student reads three leveled, field-tested print passages while the teacher follows along on the computer, clicking missed words and the last word read. The software automatically calculates the student's words-correct-per-minute (wcpm) score on each passage and averages the scores.
An individual report for each student provides the student's average words-correct-per-minute (wcpm) score and general recommendations based on the student's results. Reports generated after the winter and spring assessments also provide average weekly improvement scores to help teachers evaluate student progress. In addition, Benchmark Assessor Live provides a group report that shows which students most need additional reading support. ​
Benchmark Assessor Live subscriptions include access to all eight levels (1–8) of assessment passages. Each level has three rigorously field-tested, valid and reliable passages representative of general curriculum.
Benchmark Assessor Live is sold by subscription, and educators can reassign licenses without losing data if students leave the program.
The program includes assessment passages, assessment software, and reports of student performance and progress.
Assessment Passages
Printable passages for student use.
Printable passages with line-by-line word counts for teacher use, if assessing offline.
Assessment Software
Interactive passages on the computer for teachers to track time, errors, and expression.
Capability to enter scores obtained offline.
Instant assessment results.
Reporting Software
Individual student reports that graphically display assessment results as well as student progress over time.
Recommendations for possible interventions based on student results.
Group reports that rank students according to performance results.
To use Read Live software, your computer must meet the following minimum system requirements:
Operating System Compatibility

Windows 7 and higher
Mac OS X 10.9 and higher
Chrome OS

Browser Compatibility

Google Chrome versions 49 and higher (recommended)
Mozilla Firefox versions 45 and higher
Microsoft Internet Explorer versions 11 and higher
Apple Safari versions 7 and higher

Browser
Plug-ins

Internet Connection

512 Kbps and faster (Dial-up connection is not supported.)

Screen Resolution

Audio
| Description | Item Number | Item Price, $ | Quantity |
| --- | --- | --- | --- |
| Benchmark Assessor Live (50 seats) | BAL01 | $35.00 | |
​

Technical Adequacy of the Benchmark Assessment Passages
What Customers Say About Benchmark Assessor Live
"We have used a paper and pencil fluency benchmark assessment program for years, but just switched over to the [Benchmark Assessor] program and our teachers love it! It is so user friendly."
— Tammie, Reading Specialist, Phoenix, AZ
"I appreciate the way that the fluency grade-level norms so closely follow the other benchmarks I find when doing my oral reading fluency checks."
— Ann, Title I Teacher, Minneapolis, MN
Customer Reviews
gracelynn
Dec 1, 2014
5
nice