SE v2.0: Using SE network installation with NetWare
(739 Views)
In order to use the network version of Read Naturally SE 2 on a Novell NetWare network, you must set up one of your workstations as the host for the SE server software. (Because SE 2 will not run on a computer with the Novell NetWare operating system, the NetWare server cannot host the SE server software.)
OVERVIEW
The following diagram illustrates this type of installation: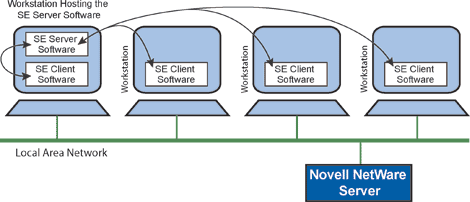 Note that even though this is a "client-server" installation of Read Naturally SE, you are not required to install the SE server software on a dedicated server. The computer you use for the SE server software can still be used as a workstation. That is, you can continue to use other software on it, such as SE client software, other educational software, or word processing software.
BENEFITS
Using a workstation to host the SE server software has the following benefits:
It reduces the load on your school's main server.
It increases flexibility and independence for reading labs and reading specialists.
It eliminates the 10-user-connection restriction of some file sharing and networking protocols. It can easily accommodate your entire networked reading lab, whether you have five workstations or 20.
REQUIREMENTS
The workstation hosting the SE server software must meet the following requirements:
It must have one of the operating systems listed in the server requirements for SE v2.0.
It must be on the same network as the client workstations.
It must have a static IP address. (The SE 2 clients need this IP address in order to access the SE server components.)
It should be a newer computer (no more than two years old) to ensure that it can support the extra processing required to act as a server.
*If you the Windows Firewall turned on, you must open port 23451 for Read Naturally SE 2.0.
INSTALLATION PROCESS
In order to set up a workstation as the host for the SE server components, perform these tasks:
Set up a static IP address for the workstation.
Install the SE server components on the workstation as described in the SE Software Guide.
Copy the stories to the workstation as described in the SE Software Guide.
Install the SE workstation software on each of the client workstations (including the workstation acting as the server) as described in the SE Software Guide. During the client installations, make sure the SE client software specifies the correct IP address of the workstation that is acting as the server.
The workstation that is acting as the server must be turned on and accessible over the network whenever the client workstations are operating.