Did you grow up playing card games like Crazy Eights, Go Fish, and Memory? Chances are your students will love games like these as much as you did. And now there's a way to play these types of games while simultaneously improving reading skills!
Check out the new Word Nerd Collection. This collection includes ten engaging card games that provide students with much-needed practice in essential high-frequency words. Essential high-frequency words account for up to 75% of the words your students read. Becoming automatic with these words is a critical component of attaining fluency.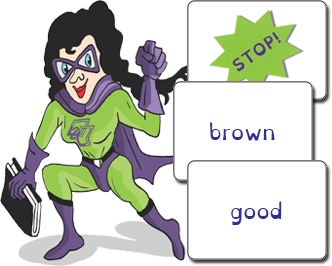 The Word Nerd games—inspired by old favorites like Crazy Eights—can be used anywhere, anytime, by teachers and parents alike. These games are easy to implement, easy to customize for differentiated practice, and a perfect support to the Common Core Standards and research-based reading programs. The words on the cards are printed in a special font designed to increase readability and reduce letter confusion for readers with dyslexia.
The Word Nerd Collection was developed by educators Terry Dobson and Heather Baptie. Terry and Heather have extensive experience working with students with learning disabilities and created these games as a way for students to have fun while getting the practice they need to become fluent, independent readers. Their passion for high-quality, research-based resources is evident in everything from the card games' appealing design to their easy implementation.
Read Naturally is pleased to offer the Word Nerd Collection as a motivating and engaging way to support reading development. Click here to learn more about each of the ten games. Our product page also includes a guide to help you determine which level is the best fit for your students.
Mastering essential high-frequency words has never been more fun! Place your order today—your students will be glad you did.