Do you ever wish you could invite Bill Gates or the late Steve Jobs to your home or school to show you exactly what your computer and its programs are capable of? Sure, it's all buried in the manuals somewhere, but nothing beats personalized instruction from an expert. The ability to ask your questions, to learn the skills that are most beneficial to you, to discover how a device or program can meet your specific needs—this experience would increase user satisfaction by leaps and bounds.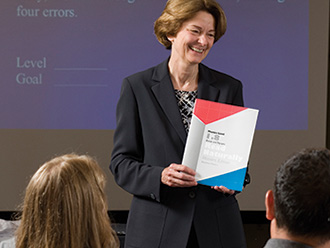 This is exactly the kind of experience we offer through our personalized training options. Although we can't send you Bill Gates, we can deliver the masterminds behind our programs. Our District Seminars and our Read Live Coaching Services are the most effective ways to ensure your Read Naturally programs are working exactly as you need them to.
Our district seminars are great way to personalize your training. A Read Naturally expert will travel to your school or district and present directly to your group. Choose Read Naturally Strategy training, hands-on software training, or customize a program specifically for you. As the teachers in your school or district work directly with a Read Naturally expert, they'll learn how to achieve optimal results in their classrooms.
After you complete training in the Read Naturally Strategy and understand the software, you're ready for Read Live Coaching, With Read Live Coaching, you're paired with a Read Naturally consultant who will review your Read Live data at different points throughout the school year, answer your questions, and help you maximize results. The Read Naturally consultant will work directly with one or two teachers at your school. These teachers then become site experts capable of guiding other teachers as they implement Read Live.
Read Naturally offers several training options to meet the various needs of our customers, but if you're looking for specific, one-on-one consulting and feedback, our personalized training options are your best bet. Sign up for Coaching Services or a District Seminar today, or give us a call at 800-788-4085 to discuss your needs. We look forward to working with you in the New Year!