Screen Tour - Cold Timing
(733 Views)
Cold Timing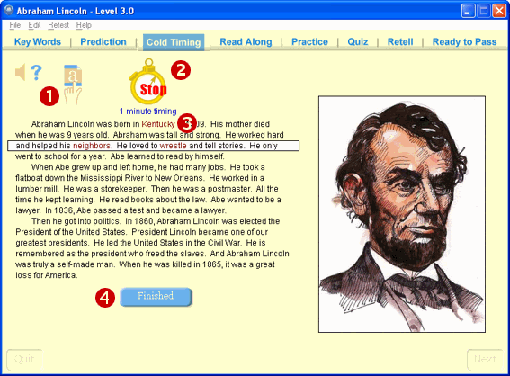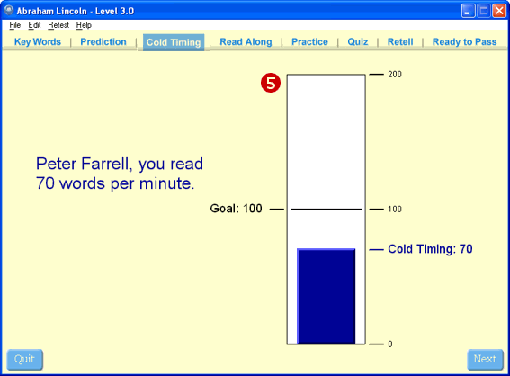 Cold Timing Screen
In the Cold Timing step, the program times students for one minute as they read the story for the first time. This establishes a baseline for measuring students' improvement as they work on the story.
As students read, they should click words they don't know or have problems reading. Clicking on these difficult words increases students' awareness of unknown words and alerts teachers to words or word patterns that need to be taught.
Screen Highlights
Students can turn a reading guide on or off before they start reading. The guide highlights the line of text under the cursor, helping the students' eyes track across the line.
Students click on the stop watch button to begin the one minute timing.
Students read the story aloud and click words they don't know or have problems with. The words they click on change color and are subtracted from the final cold timing score. After the timing is complete, students can click the highlighted words to hear them spoken and practice reading them.
Students can click Finished if they finish the story before one minute has passed. If students click Finished too early (before they could have completed reading the story), the program may ask them to read again.
The Cold Timing graph shows the number of words the student read correctly, subtracting the number of difficult words the student clicked on from the total number of words read. The screen also displays the student's score and goal.